Despite the fact that Exhibition companies in Dubai are typical events, the concept of an exhibition is broad and incorporates a wide range of variables. Exhibitions can range in size from a massive event like a World's Fair to a small one-artist solo show or a single-item display, and they are all important. Along with the display stands, we design the entire booth according to your themes and ideas with appealing posters and banners.
We also offer brochures and catalogues that highlight the features and benefits of your products and services. We also provide inventive templates and stickers that you can use to market your business on your products. Overall, by hiring Welkin, an Exhibition company in Dubai to advertise your product, you can make your stall the centre of attraction among the viewers.
An exhibition is a public display of artwork or items of interest, a display of crafts, paintings, drawings, etc. held in an exhibition or at a trade fair. It is a planned exposition that takes place in a social or educational setting such as a library, an exhibition hall, a museum, or a world's fair. Exhibitions may be conducted online.   Exhibitions range from solo displays by a single artist or the display of a single item to large-scale events such as world's fair exhibitions.
Exhibits necessitate logistics, event organization, and administration. To organize and shape the exhibition area, event designers, architects, or graphic designers will be required or you can choose Welkin – Exhibition companies in Dubai, a company specialized in Exhibition stands, events and marketing.
One Of The Top Exhibition Companies In Dubai
You can also hire us to host the entire event or exhibition. We've come up with some creative ways to decorate the stalls and create eye-catching display stands. We place a major emphasis on the product display style that best suits the needs of our consumers. With our one-of-a-kind display concepts, we can bring your vision to life. We produce designs that are both cost-effective and beautiful. So, let's give your stall a stylish yet trendy design with Welkin, Exhibition companies in Dubai, at a cost-effective price with these Exhibition stands.
It helps to obtain useful information. You can get a lot of important information from your colleagues and get a sense of the competitors' development trends by holding an exhibition. Assist with the creation and maintenance of your company's image. Exhibits can help you build and improve your brand's image in regions where customers and distributors are concentrated. 
Exhibitions can help you boost your product's appeal and market competitiveness. Aids in examining and determining the needs of the local market. An exhibition can provide you with a good idea of your product's commercial potential.
It also helps in examining your clients' preferences. Locate appropriate agencies and distributors. To grow your business, you can simply discover the channels and contact the exhibition companies in Dubai like Welkin Events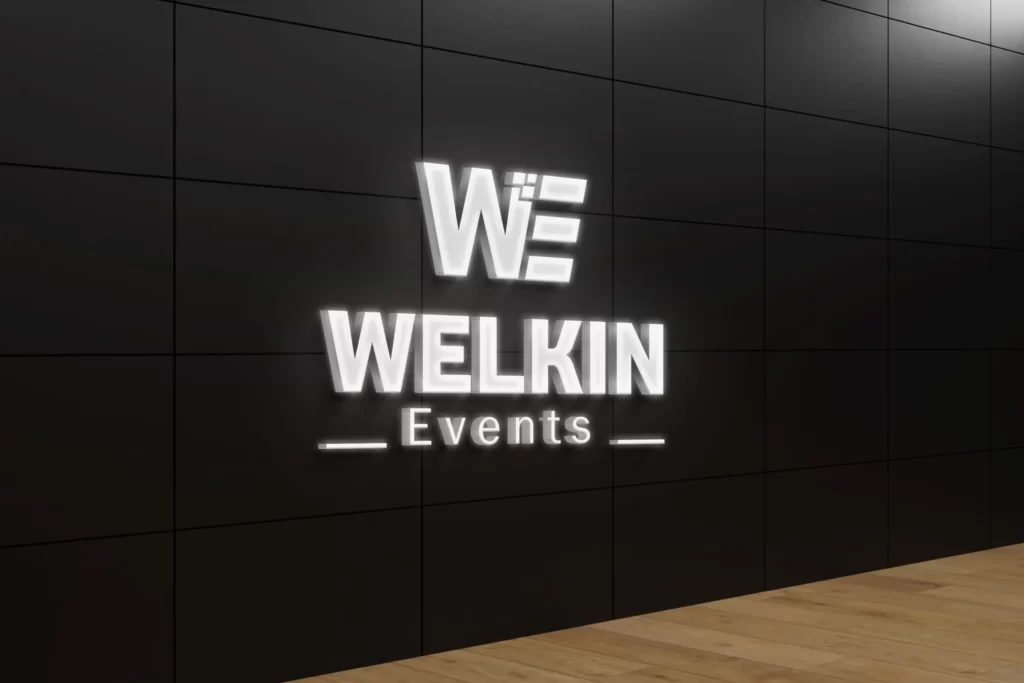 Types of Exhibitions Stands:
Custom made Designs & Stand:
We can design a customized exhibition stand for you that will provide you with the best opportunity to market your business to new and existing consumers. Through a unique style and layout concept, we strive to ensure that you are recognized for the right reasons. We've worked with some of the UAE's most prestigious and well-known companies.
We provide a fully integrated service that ensures attention to detail in every aspect of the stand design and construction process while staying under budget. We make certain that you stand out from the crowd of competitors. You will have a totally bespoke stage to present your products and services to your audience if you choose a custom design. We have the most extensive staff and production capability in the industry, and it's all housed under one roof.
We have a great deal of experience with shell scheme standing. Shell themes are available in a range of colours, finishes, and heights. The colour or style of the fascia can also be changed to match your brand guidelines.
Pop up displays or media walls are quick and simple to set up at press events, exhibitions, conferences and promotions. These pop-up media stands come in five different sizes and with adjustable fabric designs.
Straight-line media walls:
It is available in a variety of sizes. It's made of a wrinkle-resistant polyester fabric graphic design zipped within a basic and lightweight yet sturdy aluminium tubing. These media walls can be set up in 15 to 20 minutes without the use of any tools to provide a big surface area for your brand or message to be displayed.
Portable change rooms, entry features, unique work stations, pop-up stores, and other features are all customized to fit almost any display or event branding requirement. We have a fantastic team with a lot of innovative ideas who are dedicated to bringing your vision to the world. We assist you in promoting your goods in the most customer-friendly manner possible. Our display stands allow you to make direct contact with your customers.
With the help of our creative staff, you can even design your own customized exhibition stand. With a fantastic presentation and an eye-catching display, we can help you promote your business. It encourages viewers to admire and purchase your product. We work with you to help you grow your business quickly while also strengthening your brand image.
Modular stands are adaptable, environmentally friendly exhibition systems that are simple to assemble and dismantle and do not require specialist support. Modular stands' hardware is very adaptable, allowing them to be reconfigured to create a variety of designs.
They are ideal for roadshows, exhibitions, activations, pop stores and events as a display or service counter. The aluminium system is easy to install and dismantle, and it fits into a carry bag.
Branding is possible on fabric skins and countertops. Fabric designs are also replaceable, allowing you to entirely modify the look and feel of the piece by just swapping out the textile image and repurposing the hardware.
We specialize in the design and implementation of double-decker display stands. The upper tier is designed for private meetings and to provide a peaceful environment apart from the main show. On the lower tier, you can continue networking. For your most important visitors, a double-deck stand with an upper-level Premium luxury section delivers a one-of-a-kind experience. We can make a big impact in a small place.
Because exhibiting is all about communication, starting the discussion with a fantastic visual display is a great approach to get things started. The greatest technique to appeal to people in the aisle is to print your display artwork. A colourful display will attract more visitors to your booth than a stand that is left empty.
We conduct our job to the highest standards, requiring careful attention to detail, prudent planning, wise selection of colour themes, graphics, signage, and other decorative objects, and, of course, extensive research of the country's culture, lifestyle, and commercial potential. Because these pavilions provide audiences with a fast yet effective perspective, you cannot jeopardize your firm's image by selecting an inappropriate design or construction for your company pavilion.
For many years, we have been the premier source of printed graphics for exhibition booths in Dubai and other UAE emirates. We've worked hard to ensure that every time you purchase, you get exceptional value for your money as well as excellent service.
Our promise to you is high-quality Exhibition Graphics delivered quickly, at competitive costs, and with excellent service from knowledgeable, pleasant professionals.
When it comes to class, quality, and visual appeal, you have to go by experience, which Welkin, an exhibition company in Dubai have provided global exhibitors with exhibition management solutions and services. To assist you in achieving desired results during the show, we engage a team of highly trained and professional 3D designers, graphic designers, visualizers, builders, and marketing specialists.
Why Choose Welkin Events for Exhibitions:
 Welkin is the best exhibition stand maker, stand design company based in Dubai. We have a team of experts who can assist you in putting together your ideal display. We will organize your shows in a professional manner at a reasonable cost, allowing you to develop stronger client ties. In addition, we are a leading exhibition stand manufacturer in Dubai, United Arab Emirates. If you are considering organizing an exhibition, contact us. 
Exhibition Stand Builder in Dubai:
With innovative and expert service, Welkin delivers the best service in Exhibition stands and is the top Exhibition company in Dubai, UAE. Welkin attempts to give the highest quality product to customers in order to get the best possible results. We have established a high standard in exhibition management and client connection throughout the years. Welkin is ready to help you put on a show and make your brand stand out among millions of others around the world. 
The Bet  Exhibition Companies In Dubai
All of our Exhibition pieces leave a lasting impression, allowing your business to reach a wider audience. Welkin Exhibition Companies in Dubai provide complete exhibition management, exhibition stand construction, sand making, and other services.
We want you to feel at rest on your big day so you can concentrate on what matters most: advertising your brand and gaining customer attention. When you arrive at your event, you can count on Welkin, an exhibition company in Dubai, to produce a completely functional and aesthetically stunning presentation.