Welkin Events, one of the leading exhibition company in Dubai, collaborates with our clients to achieve their visions, develop concepts, and monitor the entire project. We focus on creating physical experiences that connect people to brands and products. We've created tools to help you create experiences that trigger emotional responses and leave a positive impression. As a top exhibition company in Dubai, Welkin Events' mission is to produce a stunning exhibition that engages and impresses customers.
The significance of exhibitions in the UAE
Exhibitions and events provide a broad platform for businesses to advertise their products, services, and key ideas to a larger audience. Participating at an expo may allow you to meet with clients who are actively looking for a transaction, enabling you to generate additional leads. Exhibiting at industry events is an excellent way to boost the value of your brand and increase visibility. By using interesting and appealing exhibition booths, you may entice your target audience to visit your stand and interact with your company.
Exhibition Company In Dubai
Welkin, a leading exhibition company in Dubai, specializes in transforming openings into appealing and functional hosts for your ideal event. From planning and execution to successful implementation and administration, we provide complete event and exhibition management services. We produce creative and imaginative event design and management while adhering to the highest standards. We listen to your demands and provide expert and dedicated guidance to provide the finest solution to meet your goals.
How can an exhibition provide value to a company?
An exhibition or trade show is a memorable opportunity for your company to make a name for itself in your industry and have access to the same customer base as your competitors. You may assume that in this digital age, where the majority of our marketing is done online, exhibitions are no longer relevant to your brand. That is where Welkin, a leading exhibition company in Dubai comes to play. However, contrary to popular thought, exhibiting is becoming increasingly popular among corporate decision-makers. It gives your business a large number of potential leads and customers whom you can meet in person. Despite our increasingly upscaling digital environment, exhibitions present game-changing opportunities that are not available elsewhere. Clients have more faith in you when they can meet you in person.
So, if you want to make your business stand out at an exhibition, Welkin is the event management & exhibition company in Dubai to collaborate with. Welkin has vast experience in trade show construction and is available to support you at any stage of the process. Our team is constantly trying out new trends, techniques, and materials. Welkin listens to customers, and acquiring as much information as possible is the first step toward completely comprehending the client's business objectives. Our distinctive designs are important in attracting visitors, and our skilled staff can develop your design in high quality while staying within your budget. Welkin produces long-lasting impressions for your brand, allowing potential buyers to see it.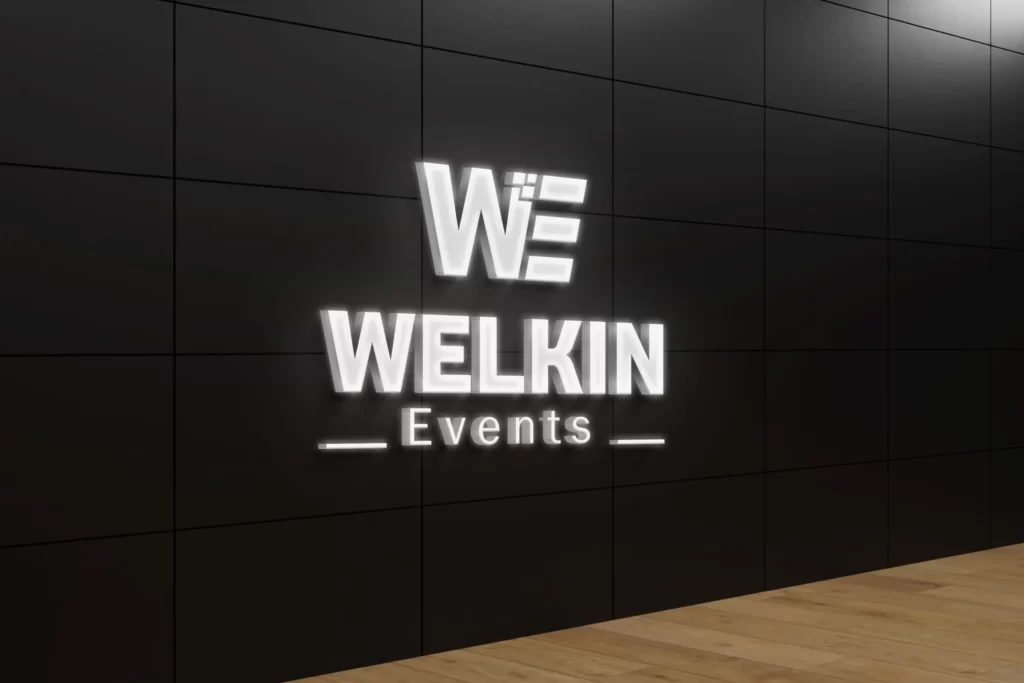 How to Select the Best Exhibition Company to Display Your Products
Choosing the right corporate event exhibition company in Dubai to design your display can make or break the success of your event promotion. After all, your trade show display is typically the first point of contact a potential lead has with your organization. Event participants report having a more favourable perception of a company, brand, product, or service after attending a trade show where it was marketed. As the top exhibition company in Dubai, we can help ensure that your prospects have a positive experience with your organization.
There are some things to check for before you start narrowing down your options.
Consider your Exhibition Goal:
Explain exactly what you hope to accomplish with your one-of-a-kind exhibition. What are your goals for the exhibition? What do you want to gain from your participation?
You can discuss it with us as a top exhibition company in Dubai. Our team will present you with a proposal packed with ideas to assist you to achieve your objectives. Then you can select the proposal that best fits your concept.
It all comes down to experience:
It's important to ensure the exhibition company in Dubai you pick has prior experience designing exhibits similar to the one you're envisioning. As with any sector, there is a learning curve, and it may take some time to figure out how to efficiently turn an original concept into full-scale production. For example, how many clients they have and what types of exhibition stands they have produced. As a result, be certain that you choose the right company to represent your brand and display your products.
Make a referral request
Obtaining references from well-known associations in your sector, as well as colleagues and other experienced event marketers, is also a good idea. You can also get a recommendation from a trustworthy coworker or acquaintance.
Check for the services:
Some display makers will create a display based on your particular specifications. Others will collaborate with you to develop a project from the ground up–and then see it through to completion. Before you select an event management company, you must understand exactly what services are provided.
Welkin Events is a top exhibition company in Dubai:
Welkin events organize an event that generates leads, engages participants, and elevates your business beyond the competition. For many years, Welkin events have been and continue to be the event management company of choice in Dubai and the rest of the UAE. Our goal for every project we work on is simple: create an unforgettable trip that the audience remembers long after the event is over. We do more than just handle event logistics; we also boost brand recall among potential customers. Before generating and manufacturing their design idea, our experienced exhibitions firm in management continually tries to grasp the client's needs, industry, and target audience.
What you need is an Event, to remember for a lifetime."
Why is Welkin Events the top exhibition company in Dubai?
We produce long-lasting impressions as one of the leading exhibition and event management companies in Dubai allowing your business to reach millions of prospective buyers. We have reliable partners all around UAE for various Exhibition services. We provide complete exhibition assistance, allowing you to relax and focus on your products. We may even organize the complete event or exhibition for you. We've devised some inventive methods to adorn the booths and make sight display stands. We place a high priority on the product display style that best meets the demands of our customers.
Clear Communication:
We concentrate on understanding every requirement and specification for a trade show booth and rental. Our teams use open and clear communication to keep you up to date on every step of the trade show booth building process.
Our expert team of the exhibition:
From the design team through installation and deconstruction, we have specialized teams to oversee every aspect of trade show booth building. Our team of experts are here to manage any difficulty or obstacle, ensuring that you have a positive displaying experience. We manage the entire process, from creating an event that exhibits our comprehensive idea based on your vision for the targeted location to effectively completing the event.
Customized stand 
Welkin exhibition company in Dubai are more than just the conduits for your ideas, we are your event partners. Working together, our primary objective is to provide the stand or event that you expect, more wonderful than you could have dreamed, on time and budget. Throughout the years, we have established a high standard in exhibition management and customer interaction. We do more than just building physical booths and stands. Our strategy is to create a visitor-capturing experience by picturing your brand based on a theme that properly matches both your brand identity and exhibition aims.
Conclusion 
As the top exhibition company in Dubai, we judge event success by how pleased and delighted our customers are, as well as the deep friendships made during the process. and how they all gather together to celebrate their success for their products with the beautiful design that we gave them, over the last year we have worked with different clients whose contentment and happiness are the sole aims Welkin travelled with and is going through. All to assist businesses and individuals to flourish endlessly. As one of the best event management companies in Dubai, we offer a comprehensive range of exhibition services and specialize in designing and building exhibition stands to fulfil individual demands and assist our customers in making the most of a show.
We have a proven track record of providing innovative and creative event solutions and management while adhering to the highest standards. We listen to your needs and provide experienced and committed advice to provide the best solution to meet your goals. We have a dedicated team for each event to deliver the most effective and engaging event possible.