About Welkin Exhibitions:
Welkin Exhibitions company in Saudi Arabia is one of the leading event and exhibition production companies in Saudi Arabia, with strong suites of commercial art, execution, and customer-centricity. We specialize in transforming empty spaces into an appealing and operational host for your dream event by utilizing creative ideas. We provide complete event and exhibition management solutions, from planning and unfolding to effective implementation and management.
With proven experience in managing world-class exhibitions, our team works closely with the clients to ensure that the brand concept is interpreted into the different elements we custom design. With each exhibition event, we ensure strong brand recall and increased customer loyalty.
Welkin Events, a leading exhibitions design company in Saudi Arabia:  
We have built a reputation for delivering high-quality products, an exceptional detail-oriented approach, on-time delivery, and a comprehensive range of exhibition stand services. Before designing and producing their design concept, our team of professional exhibitions company in Saudi Arabia always strives to understand the client's needs, industry, and target audience.
Why choose Welkin Exhibitions Company in Saudi Arabia?
Welkin is a full-service exhibition organization in Saudi Arabia that is committed to excellence and quality. Since our commencement, we have worked tirelessly to ensure the flawless execution of events, conferences, and seminars. We handle all types of events in Saudi Arabia. Public events, brand activation and entertainment, corporate events, and other services are available through us.
We Best Exhibitions Company in Saudi Arabia have a proven track record of providing innovative and creative event solutions and management while adhering to the highest standards. We listen to your needs and provide experienced and committed advice to provide the best solution to meet your goals. We have a dedicated team for each event in order to deliver the most effective and engaging event possible.
Our services:
Strategic planning

Budget Preparation

On-site event management assistance

Services for corporate event management

Specialist workshops, exhibitions, and technology demonstrations based on a theme.
Complete Trade Show Assistance:
We have a team of experts on hand to handle any situation or obstacle, ensuring that you have a pleasant exhibiting experience. Our support staff remains on the exhibition floor to resolve any issues that may arise during the trade show or exhibition.
In-house Team of Experts:
Our in-house team of experts has extensive experience in the trade show building industry and is available to walk you through every step of the process. We have dedicated teams to manage every aspect of trade show booth construction, from design to installation and dismantling.
Clear Communication:
We concentrate on understanding each and every requirement and specification for a trade show booth and rental. Our teams use open and clear communication to keep you up to date on every step of the trade show booth building process.
Keeps you up to date:
Welkin stays current on the latest trade show booth and rental industry guidelines, trends, and innovations. This compels us to make suggestions on how to make your trade show booth more appealing and, as a result, yield a high ROI.
Transparent Pricing and Packages:
We are well-known for providing affordable packages for all types of trade show booths and rentals. Our prices and packages are completely transparent, with no hidden fees or extra charges. Contact us today for a customized package tailored to your specific requirements and budget.
Why we are the best exhibitions company in Saudi Arabia?
Regardless, our workforce is interested in new trends, techniques, and materials.
Listening to and gathering as much information as possible from our client is the first step in fully understanding the client's business desires.
Visually innovative designs are important elements in attracting visitors; however, not every design can be turned into a reality; however, our professional workforce can build your design in high quality while staying within constraints.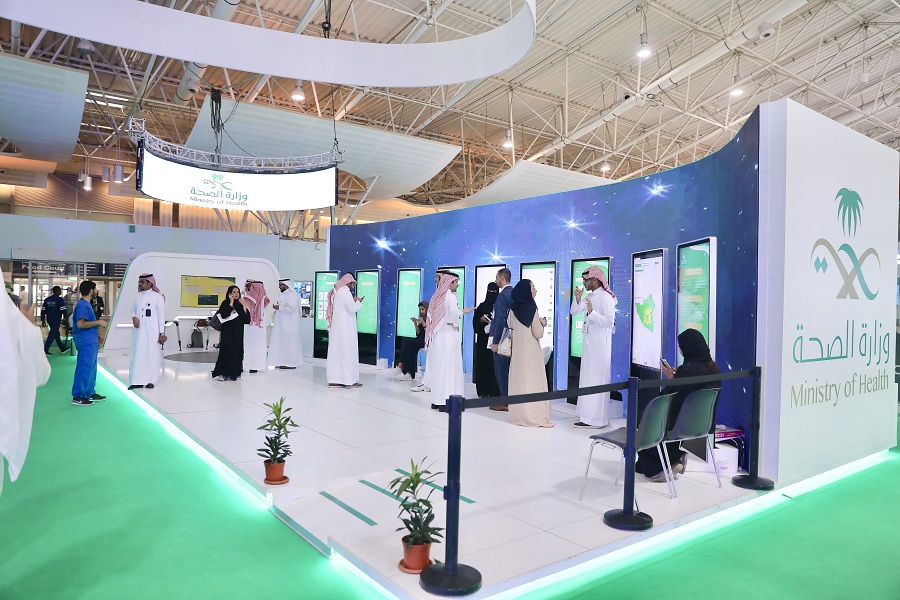 Exhibition stand building is not only our business; it is also our inspiration.
As one of the best exhibitions company in Saudi Arabia, we create long-lasting impressions that allow your brand to reach millions of potential customers. For various Exhibition services, we have trusted partners all over the world. We have a full production facility that includes stand construction, carpeting, furniture supply, graphic printing, and other exhibition-related services.
We provide our clients with complete exhibition services, including exhibition stand management, furniture rental, graphic printing, display banners, modular structure, pavilions, carpeting, video and audio settings, and all other exhibition stand design and management services in Saudi Arabia and around the world. We are one of the fastest growing exhibitions companies in Saudi Arabia.
The Big picture Of Saudi Arabian Events:
There is no denying that Saudi Arabia has a promising future in the entertainment and events industry! As a Global Event Management Company, we have extensive experience in Saudi Arabia and the United Arab Emirates. And have actually witnessed the exciting projects and ideas in Saudi Arabia.
Event Management In Saudi Arabia:
The Kingdom of Saudi Arabia has a lot of interesting opportunities for event managers. Every one of our Saudi Arabian clients wants their event to be better and more efficient than the last. Furthermore, there is a strong emphasis on showcasing new technology and never-before-seen entertainment. This is very intriguing for a global event management company!
Working as an event manager in Saudi Arabia is fantastic. We Best Exhibitions Company in Saudi Arabia create a cultural and artistic fusion. Creating entertainment and events that not only showcase the Kingdom of Saudi Arabia as a country, but also demonstrate Saudi Arabia's growing influence in the Western world. Saudi Arabia is establishing itself as a global opponent in hosting the world's best events by creating and displaying new and exciting events.
With the country's increasing openness, some of the stricter rules, such as dress code and women attending events, are being relaxed. We anticipate that Saudi Arabia will become a major contender in hosting the world's best events. Besides that, we foresee that KSA will become a tourist hotspot and a landmark that will become increasingly popular with the Western world.
"Innovation is in our Genes and we are dedicated to inventing later today event industry."
Venue for Conference & Exhibition in Saudi Arabia:
Choosing a site for your conference or exhibition in Saudi Arabia can be one of the most significant and difficult decisions you'll make. We've compiled a list of the top five exhibition and conference locations in Saudi Arabia.
JEDDAH INTERNATIONAL EXHIBITION AND CONVENTION CENTER:
The Jeddah International Exhibition and Convention Center (also known as the Jeddah Center for Forums and Events) is a multi-purpose venue in one of Saudi Arabia's most important business hubs. Its proximity to King Abdulaziz International Airport ensures easy access from both inside the region and beyond.
The venue has a total size of 40,000 square meters, with 10,000 square meters of indoor event space. A big exposition hall, a business center, and dining options are available at the Jeddah Center for Forums & Events.
RIYADH INTERNATIONAL CONVENTION & EXHIBITION CENTER:
The Riyadh International Convention & Exhibition Center (RICEC) is one of Riyadh Chamber of Commerce and Industry's facilities. Throughout those phases, the RICEC has entered into contracts with specialized enterprises in several industries.
The land area is 189,000 square meters (about 2.000.000 square feet) and is rectangular in shape, spanning from north to south with a small deviation. The RICEC building, with its 'wave-form' roof and distinguishing feature, is one of Riyadh City's architectural landmarks.
CULTURAL CENTRE OF KING FAHAD:
In Riyadh, Saudi Arabia, the King Fahad Cultural Centre is a banquet and hall. International Council of Ophthalmology, Saudi Ophthalmological Society, Al-Mahalliyya Public Affairs, Saudi Medical Physics Society, and others are among the top event organizers at King Fahad Cultural Centre. 
Riyadh's Four Seasons Hotel
:
Top Organizers host events at Four Seasons Hotel. It is a Hotel & Resort located in Riyadh, Saudi Arabia. IQPC Middle East, IDC CEMA, Informa Exhibitions Middle East, IDC, Datacenter Dynamics LTD, and others will be exhibiting at Kingdom Center. Apparel & Clothing, Real Estate, Gems & Jewelry, Travel & Tourism, Media & Advertising, Power & Renewable Energy, Building Construction, and other events are held at the venue.
APEX CONVENTION CENTER: 
The APEX Convention Center is the most recent international exhibition and convention center. It is well-known for its modern architectural style.
The APEX Convention Center is a premier venue that allows guests from all over the world to meet, collaborate, celebrate, and share ideas. Because of its flexibility, the Center can also effectively function across a wide range of events, including gala dinners, award ceremonies, product launches, workshops, and much more.
Conclusion:
WeBest Exhibitions Company in Saudi Arabia are in the business of building organizations so that everyone, no matter who or where they are, can flourish. Our flagship events will always be our pride and focus, but we're now expanding on them by creating year-round communities with shared passions and purpose, all with the goal of helping businesses and people grow indefinitely. As one of the best exhibitions company in Saudi Arabia we provide a full range of exhibition services and specialize in designing and building exhibition stands to meet specific needs and help our clients get the most out of an exhibition.